The PRO EDUCTOR Cybernetic Biofeedback System is the most sophisticated instrument in the world of stress reduction today.
By combining a number of Biofeedback and Stress Management software programs, the PRO EDUCTOR communicates with each individual's unique energetic "signature" to determine various stressors that are negatively impacting the body on both an acute and a chronic level. This information can then be used to educate the client on their particular stress patterns as well as retrain the body to respond to these stressors in a healthy manner.
This technology provides you with one of the most comprehensive assessment tools available in complementary care today. By implementing the PRO EDUCTOR Biofeedback and Stress Management system you can gain deep and valuable insight into your client's vital bio-energetic information.
Enhanced Reactivity Testing
The Pro Eductor Cybernetic System is a vastly improved, fully registered device and contains professional EEG, EMG, ECG chips, four wave signal generators for 3D visual graphic representations, Wi-Fi connection, micro-micro operations, an LCD screen, Cranial Electrical Stimulation Harnesses and much more, including an improved Quantum Xrroid Consciousness Interface (the proprietary reactivity test process) for which all previous models use.
Increased Stimulation Versatily
There is also a built-in reduced small frequency interference system which enables a much greater precision, range and effectiveness of MTENS, MCES, EWH, TVEP, ETM and Scalar Wave Functions.  In addition,  the Amplitude of the generators can be manually set separately for all of them.
The additional three technologically advanced signal generators have greatly improved the Pro Eductor's Electro-Stimulation Capacities in comparison to the single generators found in previous models. This tri-stimulation system allows for a full 3 Dimensional Scalar Field and 1000% increased stimulation versatility.

Chakra balancing, pain management, anxiety relief, addiction therapy and electro-trauma healing therapies are now more effective than ever in the new Pro Eductor, giving you/your clients the most comprehensive and effective therapies available.
How Does the Pro Eductor Work?
The PRO EDUCTOR is designed to correct the manifestation of stress and/or electro-stress patterns within the individual at the most primal of physiological levels. The device works on the theory that stress disrupts the inherent electromagnetic frequencies at which the body's cells, organs, etc. resonate and that by returning these frequencies to their natural state, the stress and any subsequent illness that occurred because of the disruption can be corrected.
The information is gathered from the body through electrodes in head and limb straps providing an objective, accurate and precise picture of the client's general stress profile. This information is selected and listed by the Pro Eductor in order of the highest reaction, and the stressors are analyzed in the course of a stress management session.
Studies have shown that people who are over-stressed produce different patterns of brain waves than those who are not over-stressed. These studies revealed that reversal of that stress via techniques such as biofeedback, which employ the individual in controlling their return to stress-free living, can result in the abnormal patterns becoming normal.
The EDUCTOR is indicated for use as a Biofeedback system, with the following primary functions:
Stress Reduction and Lifestyle Questionnaire.
Simple EEG (electroencephalography) biofeedback brain wave stress reduction.
Three-pole ECG (electrocardiography) simple heart awareness and biofeedback stress reduction.
EMG (electromyography) biofeedback for simple re-education of muscles.
GSR (galvanic skin response) biofeedback.
TVEP (transcutaneous voltammetric evoked potential) biofeedback.
MENS (Microcurrent Transcutaneous Electro Nerve Stimulation) for pain reduction in the cybernetic biofeedback loop.
This combination of Biofeedback applications and micro-current stimulation has proven positive effects in the following areas:
Stress Detection & Reduction – Strengthened Immune System. Better Cardiovascular Health.
Less Depression – Promote Healing – Relaxation intervention can improve the healing of trauma and/or wounds.
Reduction of Pain – Micro-current Transcutaneous Electro Nerve Stimulation (MENS) for pain reduction in the cybernetic biofeedback loop.
Muscular Re-Education – Injury, Muscle Weakness, Dystonia, Reduction of Pain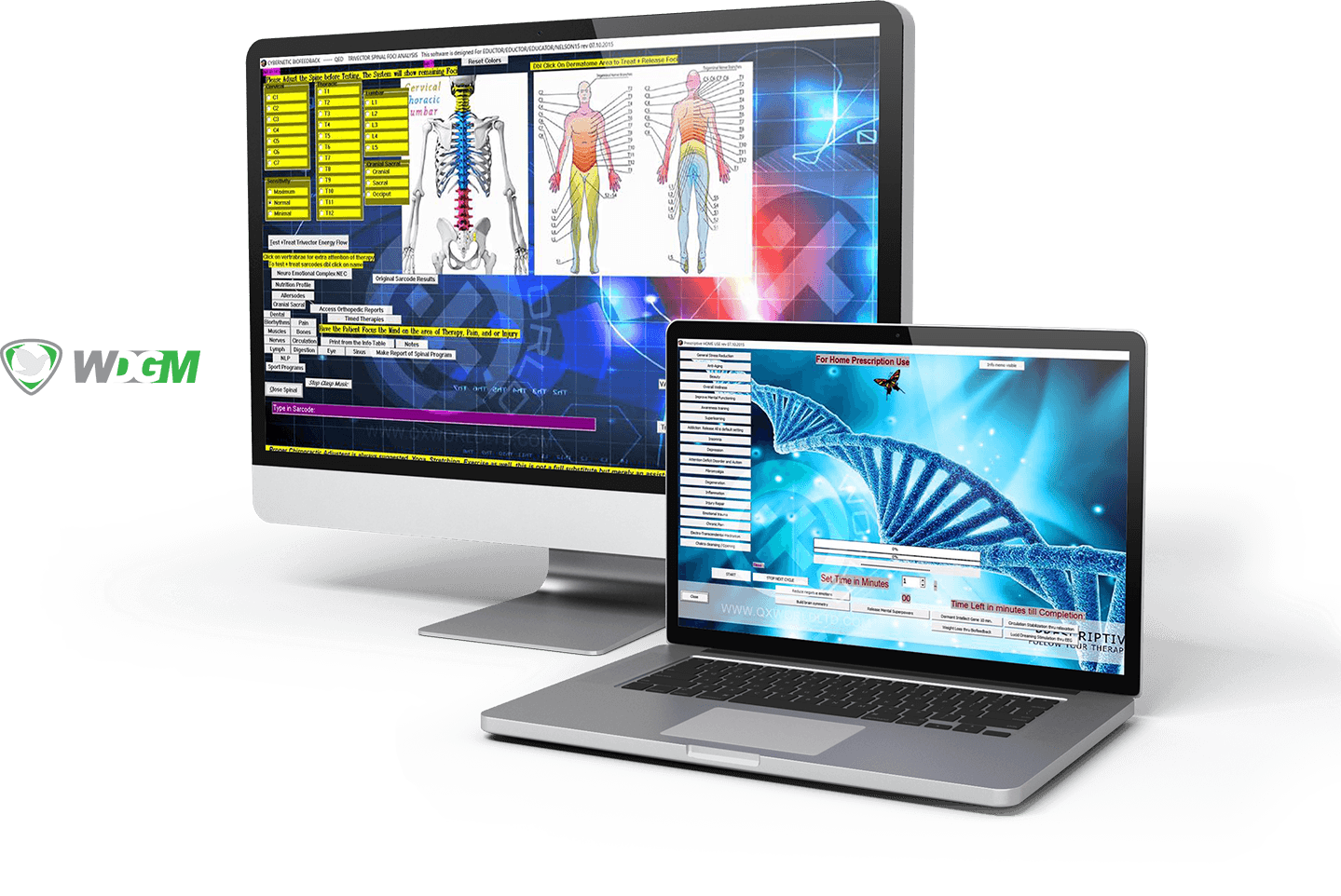 The Eductor64 is the operating software behind the Pro Eductor, the largest medical software in the energetic medicine world today. With every new version, the software is enlarged and improved to offer our Biofeedback Specialists the best means to help their clients manage their stress.
Eductor64 base applications include:
Meridian System Correction
Scalar Auto Program
Trivector Program
Muscular Re-Education for Athletes
Muscular Re-Education for Injured Muscles
NLP (Neuro Linguistic Programming)
EMG, EEG, ECG, GSR Biofeedback Chart
Hyper-Reactant Reactivity Training
Greatly improved Electro-Stimulation Capacities with its three much more technologically advanced Signal Generators to the one old fashioned signal generator of the SCIO and INDIGO. This three stimulation system allows for a full 3 Dimensional Scalar Field and increased stimulation versatility.
Major improvements to the Pro Eductor include a dedicated ECG, EEG, GSR and EMG sensors with improved disturbance filtering. The sensitivity is 20 times more sensitive than the SCIO.
New active independent shielding and new heat stabilized voltage reference on each channel of the electrodes.
New Peak Rectifier for the measurement of the peak values of the AC components and a precise 22 Bit Sigma-Delta AD converter for high resolution DC measurements for a greatly improved measurement function. There is also included a greatly improved aberrant artifact reduction system.
New DC source can change the source impedance in a wide range for improved GSR measurement.
Full large video touch screen for movie and biofeedback display.
Also added a multitude of programmed waveforms. In summary, using today's chip technology and the Quantum Xrroid Technology, we have a much improved medical device to help with educating your patient's body electric to increase wellness.
The New Electro-Transcendental Meditation (ETM) Function is greatly improved with the Pro Eductor also. With this upgrade, we can stimulate the mind into deep states of relaxation and meditative bliss, encourage deep relaxation via more balanced brain hemispheres, release sticky emotions, enhance the senses, enhance color perception, and reduce brain wave conflict. The ETM experience is like tuning a badly tuned guitar to a harmonious tranquility by eliminating dissonance. Perception is thus improved and thus brain function is expanded due to a more open consciousness.
Interested in becoming a Biofeedback Professional?
We here at White Dove have been helping place (WDGM) Quantum Biofeedback technology for over 15 years and would love to support you in your wellness technology implementation needs.
Please learn more about how you can add more value and results to your clients/patients today by contacting us today.
* These fields are required.
Disclaimer: No information, service, or product offered by White Dove Global Marketing, Ltd or its duly authorized representatives is intended, in any way – explicit, implicit, by implication, or in reference, to be a substitute or replacement for competent, traditional, licensed, professional medical care. There are no guarantees on any service or product, unless stated otherwise. Consumers chose their own products, services and/or practitioners off our listing and are responsible for themselves.
Copyright 2012 - 2019 - All Rights Reserved White Dove Global Marketing, Ltd. | P.O. Box 250292 West Bloomfield, MI 48325