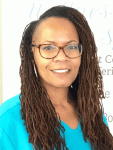 Practitioner, DNP, RN, PHCNS-BC, Colon Hydrotherapist-BC Managing Principal
Elicia Jacob is a doctoral prepared registered nurse, board certified as a Public Health Clinical Nurse Specialist.  She worked for ten years as a Senior Director of Nursing for one of the largest medical centers in the southeast.   Elicia has always been passionate about helping others realize their full potential.  This was demonstrated daily in her personal and professional life.  In June 2019 the entrepreneurial fire was fully ignited. Elicia and her team of experts moved forward and her desire to become a small business owner came to fruition. 
She purchased Healing Waters Wellness Center & Spa located in the heart of Birmingham, Alabama's medical district.  Elicia works side by side with her two daughters, brother, niece and spirit daughter.  Elicia researches and studies to stay on top of the latest trends in wellness, amplifying her skill set to ensure optimal outcomes for her clients. 
Healing Waters team members are trained and or certified in providing BioCleanse Foot Baths, Colon Hydrotherapy, Computerized Biofeedback, Korean-Style Hip Baths, Infrared Sauna, Strawberry Laser Lipo, Delfin Therapies Buttock Lift & Body Contouring .  Please visit our website at www.morethancolonics.com to find out more about the services we offer.